TruFit Solutions
TruFit offers a range of exciting new products and services all based on TruFit's revolutionary patented and patent pending imaging technology. TruFit is able to quickly and easily obtain high resolution foot images comparable to or exceeding results provided by more expensive diagnostic equipment for a fraction of the cost. Thus, opening up new applications for footwear retailers, manufacturers and podiatric clinicians.

Designed to upgrade older mechanical sizers, TruFit models provide instant digital sizing in a rugged, solid-state portable design. Simply step anywhere on the sensor pad and get your size in seconds! TruFit is a great low cost way to add high tech bling while offering customers the ultimate in self serve convenience. All models are constructed with impact resistant ABS and washable, scratch resistant polycarbonate to endure years of service in the most abusive self serve environments. In addition, units may be customized with your own graphics such as your store logo and calibrated to any desired scale.

TruFit sizers are available in three basic models for men, women and a KidFit model for children's sizes.
Men's Scales*
US 4-15
UK 4-15
EU 35-49
JPN 21-32
MEX 4-13
AUS 3-14
MONDO 228-292
Women's Scales*
US 5-15
UK 2-14
EU 35-49
JPN 21-32
MEX 4-13
AUS 3-14
MONDO 228-292
Children's Scales*
US 4-14
UK 4-14
EU 20-34
JPN 12-22
MONDO 228-292
* Other non standard or custom scales available upon request.
Feeling creative? TruFit sizer graphics can also be customized to almost anything you can imagine such as store and company logos, dressmark and design themes with no charge for quantity orders.

Go a step beyond size and offer customers a near custom fit every time! Rather than fit traditionally by size, TruFit Pro provides a virtual fitting via a seamless and wireless connection comparing a customer's unique TruFit image metrics directly against manufacturer's last models to insure the closest fit possible with mass produced items. Once TruFit sized in seconds, the customer can then use our free mobile app to quickly and efficiently perform a virtual fit with thousands of footwear models by footwear category, manufacturer, price and even store inventory. A virtual fit does everything a fitting professional would do including access overall clearence and binding, compare points of articulation with footwear flex points and arch support. It can even access potential pronation-supination problems and provide a list of commercial orthotic products affording the best support given a specific foot/footwear combination.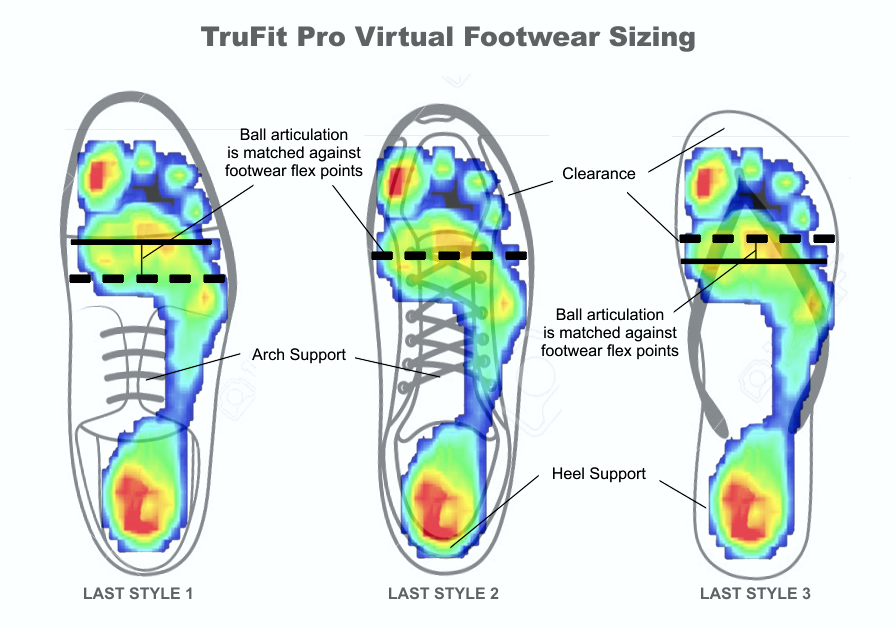 TruFit Pro provides self serve professional fitting results in seconds! No more wasted time carting box after box using a ball park size or processing expensive returns from ill fitting online purchases. Once sized, the image may be retained to facilitate future in store and on line footwear shopping anytime.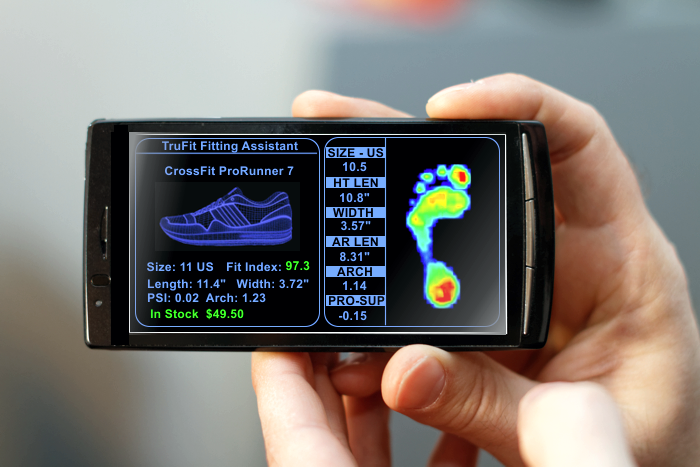 All of the benefits of the Trufit Pro with the addition of a robust Trufit Pro software platform which delivers high resolution images of the foot along with associated orthopedic data such as length, width, contour, arch, arch length, ball radius, heel radius, arch length, pronation- supination index as well as a bilateral analysis to access weight distribution. Displayed on a range of devices from mobile equipment to pcs and kiosks, such information is a valuable visual resource for helping customers access their foot health and associated needs including stock footwear and orthotic selection as well as custom footwear and orthotic design. A TruFit Pro+ Kiosk is also available which can be easily tailored to your specific service and marketing needs including traditional sizing, TruFit Pro sizing, assist in footwear and orthotic selection, generate general orthopedic analysis, search inventory and even perform self serve point of sale functions all at the touch of a kiosk!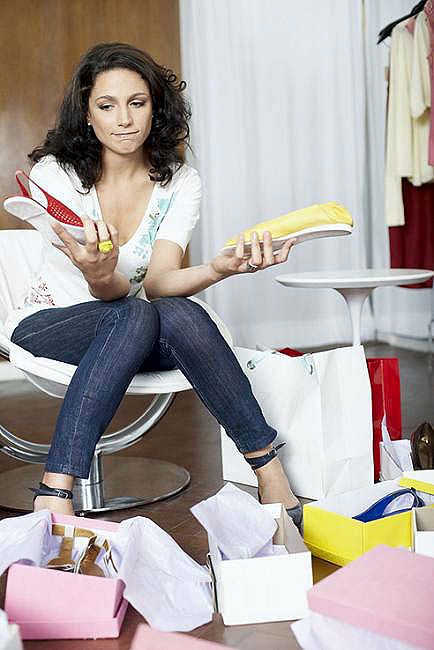 Size Does Matter!
Ever notice the same size shoes from different makers don't always fit equally? It's no secret shoe sizng is not an exact science. In fact, it's not a science at all, but an arbitrary reference designed to simplify a very complex measurement. (see here for a description of commonly used sizing scales). The human foot is highly intricate having many points of articulation which vary not only from person to person but between your own feet! Proper shoe fitting takes into account numerous factors including midline, heel-to-ball length and toe length as well as degrees of pronation, supination and arch. Since accounting for such detail would be impossible with massed produced footwear, conventional sizing systems use only length and width as a practical compromise to simplify manufacturing and expedite the fitting process.
Traditional Sizing
As any fitter will attest, sizing is more than length. Proper matching of ball articulation where the foot bends during movement with the natural flexation point of footwear is just as important as overall size. It's not only important to make sure one's foot will fit in a shoe, but also how it fits to insure foot health and proper footwear function. This is why conventional mechanical sizers are equipped to measure both overall and ball-to-heel lengths. However, while simple in concept and easy to employ, such factors and proper device use are confusing to customers who are unaware of fitting methodology resulting in frustrated customers who must hunt down store personnel for assistance or risk disgruntled customers and costly returns from improper self sizing.
This is where the TruFit sizer can help. It takes such metrics as well as others into consideration with the ease of modern technology to give instant and automatic professional sizing results in a fully self serve process. Thus, insuring happy customers the added service of easy and accurate sizing at their convenience.
Virtual Fitting
Although an aid in selection, traditional sizing scales have always suffered from inconsistancies in manufacturer standards and tolerances as well as non standardized mechancial sizers. Thus, although reducing the selection effort, often additional trial and error across a size range of that measured is required to obtain the best fit.
This is where the TruFit Pro system can help. Using the 2D pressure and image metrics obtained from a single TruFit sizer reading, TruFit Pro performs a virtual fit by comparing this profile to thousands of manufacturer last models using and advanced fitting analysis taking into consideration overall clearance, binding points, articulation and flexation, arch and weight distribution. Thus ensuring the highest quality fit using massed produced footwear by forgoing size and performing a virtual fit.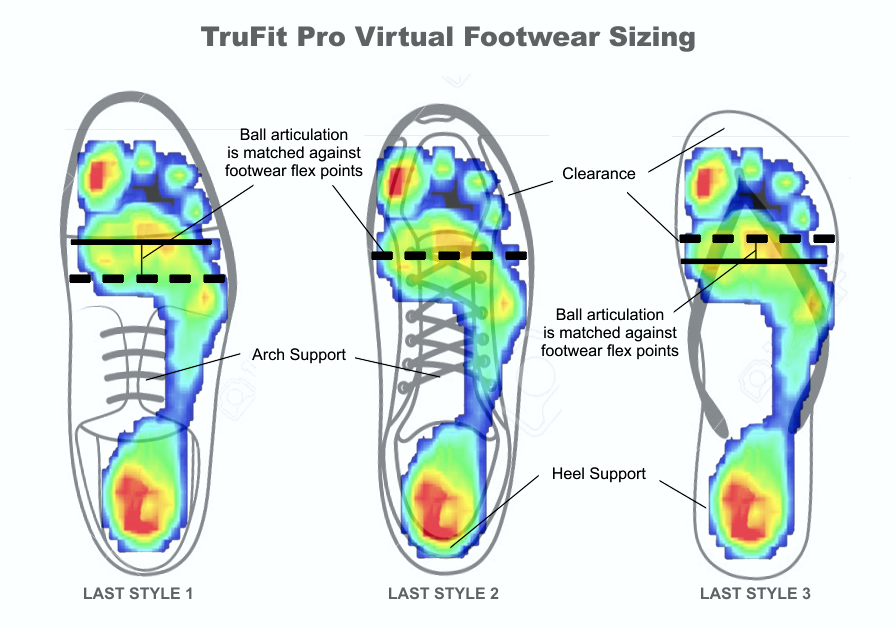 Standard Shoe Sizing Systems
What is TruFit Sizing?
Imagine waling into a store, stepping on a device to get an instant and accurate shoe size, effortlessly search the inventory, try on a selection being assured of a high confidence of fit the first time regardless of size, making payment and leaving with your purchase without ever needing to consult a store representitive. Stress free, hassle free, easy, convenient, informed and confident shopping that benefits both the retailer and customer. That is TruFit sizing.


Simply put TruFit is the next stage of footwear retail service. Leveraging the latest in modern technology, TruFit can easily and affordably help enhance your store's image and customer experience while affording your customers unparalleled service and convenience. By providing instant and accurate self serve sizing, virtual fitting and selection, orthotic assistance and even self serve POS, TruFit greatly simplifies fitting, reduces time wasted searching physical inventory, reduces costly return rates and affords your customers new and exciting retail options. And all priced competitive with traditional mechanical sizers.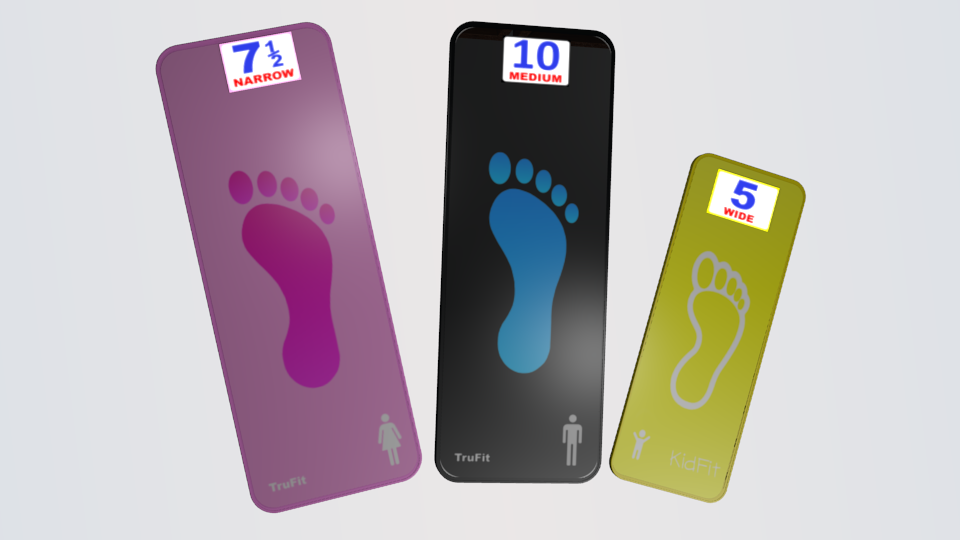 Traditional Sizing
The cornerstone of the TruFit system is the simple TruFit sizer. Designed as a replacement for older mechanical versions, the TruFit digital podometer is a solid state, light weight, portable and yet rugged sizer which affords quick, easy and accurate self serve fitting. Just step anywhere on the sensing pad and read your size in seconds! All without scales, instructions or adjustments of any kind. And don't let it's simple use fool you. TruFit patented sizing technology is highly accurate and incorporates far more metrics than used with conventional mechanical sizers. This combined with a sleek, stylish design, large easy to read backlit color display and customizable graphics makes TruFit a great way to add high tech bling while affording your customers unmatched confidence and convenience at affordable pricing.

Virtual Fitting
Although a good place to start, as any seasoned fitter will attest, due to variances in manufacturer standards and tolerances, size alone simply cannot guarantee an accurate fit with every model shoe. Over the years various methods have been designed in an attempt to afford better fitting but most have proven impractical due to cost, complexity, inconvenience or required floor space.
This is where the TruFit system excels. By combining both old school methods with new school technology at truly affordable pricing, TruFit is able to provide a simple, intuitive way for everyone to get the best fit possible with the least effort. Thanks to innovative patent pending technology, the basic TruFit sizer actaully provides more metrics than size alone. It generates a 2D pressure distribution of foot affording a range of advanced metrics including contour, arch, arch length, ball radius, heel radius, ball-to-heel length, pronation and supination as well as the overall weight distribution between both feet.


Once a TruFit image is obtained by simply standing on the device, these metrics may then be used directly to display a standard size or seamlessly and wirelessly uploaded to mobile devices or an in store kisok for virtual fitting. Here, size information is ignored in lieu of directly comparing image metrics with last models of products by footwear manufacturers where standard fit parameters such as overall clearance, points of potential binding, comparison of articulation points with product flex points, arch and heel support are accessed resulting in an overall fit score. Thus, customers may easily search thousands of footwear selections by category, manufacturer, price and availability while being assured of the highest possible fit. This data can also be integrated with orthotics information to aid in the in store selection of standard orthotics which best suit a given foot metric profile and footwear combination.
There's truly no easier and more cost effective way to enhance your store's image, shopper experience, service and competitive edge. Call today and let us help you learn more about the TruFit revolution!